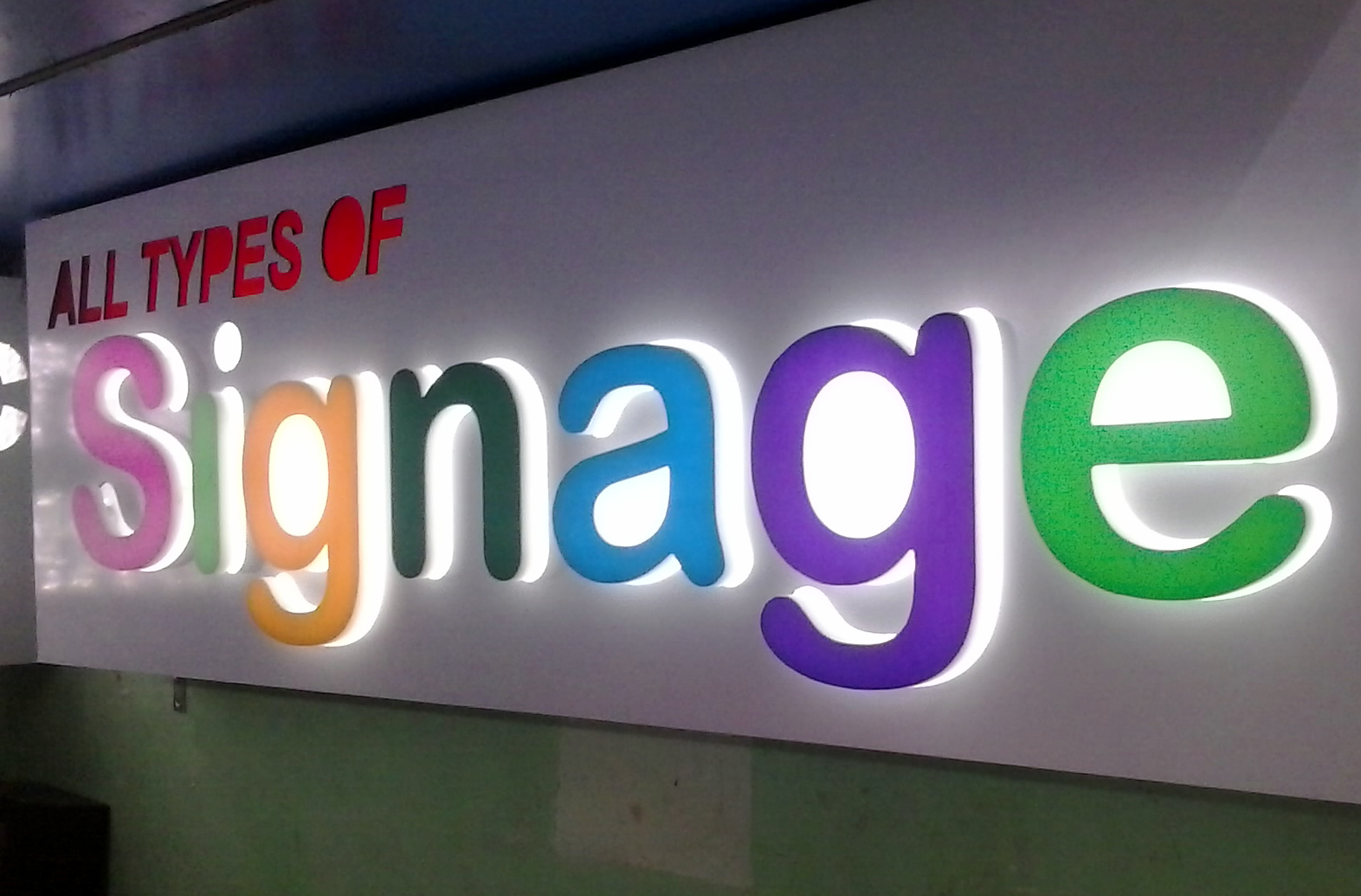 When evaluating the different outdoor commercial signs to choose for your business, you must consider your corporate image, environment, and budget. Each option has several pros and cons. Not all types of labels are suitable in every case. Incorrect signage can cause overstimulation and even confusion, so it should not be conceived from a fleeting idea or as a part of your business less critical than its interior, staff, or products or services it sells. Here's a list of the most common types of commercial signs with their advantages and disadvantages.
#1. Letterbox Faceplates
It's a plate made of aluminium with a design on vinyl. It can be decorated with a white, black or other coloured aluminium profile, usually located either inside an architectural hole, such as moulding or an arch or in the same facade plane.
Pros
It is the simplest and most economical type of label.

Ideal for when you do not have an electrical installation at the front of your store or do not want to make the necessary investment in electricity to illuminate your space.

It allows all kinds of designs and colours.

It can be simply illuminated from above with fluorescent or LED lamps.
Cons
They give a less sophisticated image than other types of signs.

They attract less attention than different kinds of labels.

They are usually not as durable as other types of signages.
#2. Banners
Banners are signs mounted perpendicular to the building's wall, standing out from the rest of the labels that are mounted flat on the facade. They help pedestrians find the entrance to a business from the sidewalk. Like the rest of the signages, they are manufactured in very diverse materials, from the simplest, such as canvas, very typical of vintage restaurants, to the most sophisticated, such as those with an aluminium box with a canvas methacrylate front with interior lighting. They are usually always double-sided, to ensure visibility in any direction of travel. They can also have varied forms (square, round, cross-shaped for pharmacies, with a specific design for parking lots, bank tellers, tobacco, etc.).
Pros
They improve a business's visibility, especially when combined with another type of flat sign on the façade, guaranteeing visibility from all possible directions.

They are cheaper than other types of labels with similar functions.
Cons
Their installation tends to have greater regulatory restrictions than other types of signs, having a more significant impact on visibility.

Installed alone, without any other type of complementary label, it has limited visibility.
#3. Vinyl on Windows
The vinyl in shop windows is an excellent way to give visibility to a business, usually combined with another label type. In some cases, it can be used as the only external brand image. It is an excellent way to temporarily advertise products and services (such as sales, new products, etc.) or permanently protect interiors from the gaze of curiosity (with the option of seeing from the inside) and from UV rays.
Pros
They allow great creativity in terms of designs and colours.

They enhance the visibility of a business if they are complemented with other types of signs.

Its installation is simpler and cheaper than that of other signs. However, professionals' skills and experience will avoid wrinkles or different kinds of imperfections, especially on surfaces that are not entirely smooth.

They are relatively inexpensive, although investment in professional installation is often required for optimal results.
Cons
If ordinary, more durable vinyl is used, it can be difficult to remove.

If electrostatic pieces of vinyl are used (no adhesive, they run on static electricity), they may not be very durable and require reinstallation.

Its durability is not the same as other types of signs, although adhesive vinyl types resist environmental phenomena better than electrostatic ones.
Not Just Any Type of Label Is Suitable
As we said at the beginning, not all types of signs are necessarily suitable for your business. Therefore, if you take your company image seriously, you must know that there are signage options offered online that may not be the most beneficial. That's the case of websites that sell online signs at a fixed price without considering essential elements like municipal regulations, exterior architectural features, environmental impact, the necessary installation, and so on. These agencies don't really care if you direct more or less foot traffic to your business or convey a positive image to your customers. For this reason, it is best to contact professionals like Sign Raizor! Established more than 15 years ago, they'll help you create a lasting impression for your business thanks to their wide assortment of signage services.