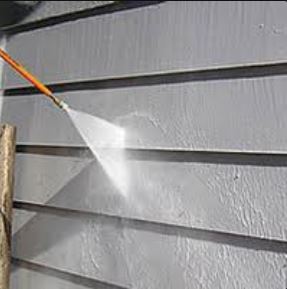 Summary
    – Façade cleaning: essential!
    – Pressure washing of a facade
    – High-pressure facade cleaning to clean what?
    – Why choose high-pressure facade cleaning?
    – Who can do high-pressure facade cleaning?
    – How to clean your facade?
Facade cleaning: indispensable!
The appearance of dirt is often the result of a lack of maintenance of your facade over time. Facade cleaning is intended to maintain your building; it rids the facades of dirt from atmospheric and biological pollution. 
With a diagnosis intended to establish the work to be done, facade cleaning is the first stage to be carried out. Indeed, a clean facade makes it possible to visualize better the lack of protection, the errors of implementation… 
Depending on the state of the facade and the type of materials, trimming and means, you have various kinds of cleaning, including high-pressure cleaning that we will see in this post.
Please note that some types of cleaning are pretty straightforward, but others require professional know-how and skills. 
Pressure washing of a facade
The high-pressure cleaning of facades is an aggressive cleaning technique with water projection on the facade.
It is also possible to proceed with low-pressure cleaning, more gentle and more respectful of materials.
What is the purpose of pressure washing a facade?
High-pressure cleaning is used to clean:
    – greasy dirt;
    – dust;
    – black dirt;
    – paint residues.
It is used on:
    – stone;
    – brick
    – concrete;
    – wood.
Why choose high-pressure facade cleaning?
High-pressure cleaning is mainly used for the maintenance of facades and to reduce their clogging.
An annual cleaning will avoid long-lasting clogging provided that it has been treated with a water-repellent product and an anti-moss treatment.
Facades that are already dirty are cleaned thoroughly of atmospheric dirt, especially greasy dirt, using hot water.
Note, however, that you should avoid high-pressure cleaning in winter because of the risk of thermal shock.
It will help if you don't use pressure washing on surfaces in poor condition. For instance, when there are degraded joints and in case of risk of infiltration.
How to clean your facade?
Before carrying out a pressure washing of your facade, it is necessary to protect the areas that are not cleaned, such as the windows, and protect the environment from water projections.
It is also essential to wear protective clothing, goggles, a mask and a pair of gloves.
Here are the steps for a high-pressure facade cleaning:
    – Apply treatment products as needed to the facade to be treated to soften biological soils, greasy soils, etc.
    – Soaps, wetting agents such as Teepol can be applied.
    – Apply the products with a sprayer, leave for 30 minutes, brush and rinse with a high-pressure jet.
    – Start at the top and work your way down the facade, from right to left or left to right, depending on your hand, keeping the spray nozzle about 50 cm from the facade.
    – Adjust the pressure so that it is not too strong. Adjust it to the type of material; if necessary, do some tests.
You should use chemicals with care, so read and follow the instructions carefully. 
Who can perform high-pressure cleaning of the facade?
It may not be a much easy DIY task to clean the facade of your own business. Suppose you are environmentally conscious or don't like the smell of chemical solutions that can damage your facades. In that case, Cancore Building Services can help you. They make sure to use only the safest environmentally friendly methods.
How did you find this post? Remember to leave your comments and share.