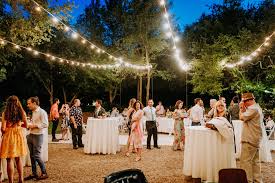 Many couples want their weddings to be remembered forever, that's why they decide to make theirs to memorable that they try to get the best wedding planners of the lot. Some want their wedding to be held in churches or at the magistrate or at their home. Well, it is logical that some people would want their wedding to be the talk of the town for some days. Some couples decide to have an indoor wedding and some an outdoor wedding. It is a trend to have an indoor wedding and some people find it to be synonymous to an elegant setup. Well, there are some couples who decide to have an outdoor wedding. By outdoor wedding, it can be either the beach, the forest, vineyards, the local city parks or even a B&B.
Planning an outdoor wedding is somehow difficult as you have a lot to consider for putting the whole plan into action. If you are planning to have an outdoor wedding, then here are some points to consider before. I'm sure it will help you because I know it will be of help to me. (Yes, I want an outdoor wedding!)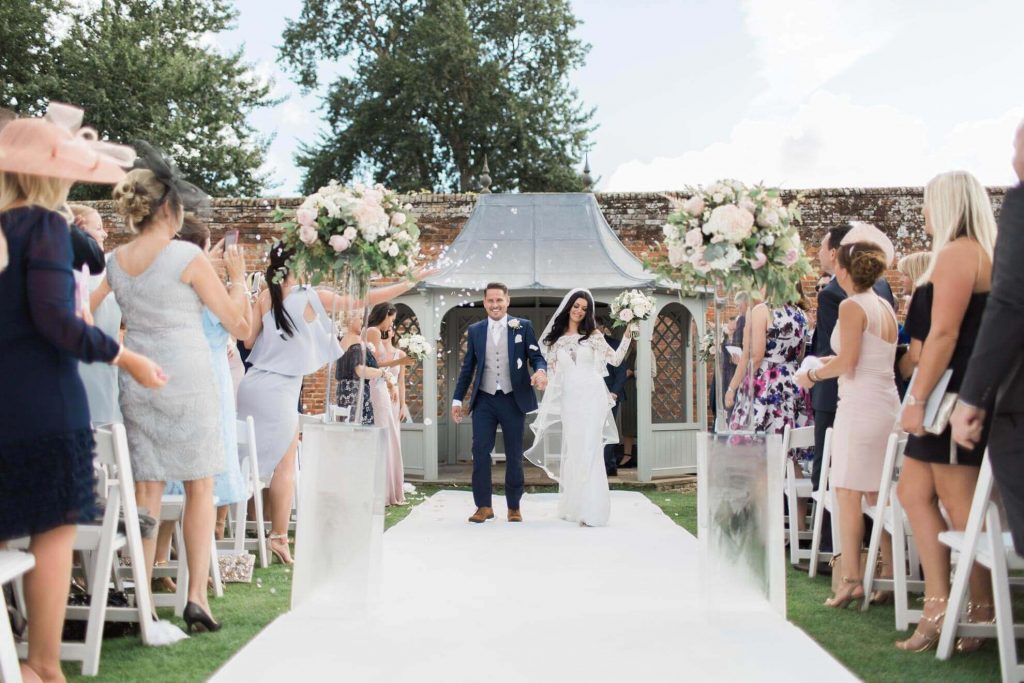 Outdoor weddings are scenic, romantic, and beautiful. If you want to create the perfect outdoor wedding, keep these tips in mind.
Find an Officiant
Some officiants only perform ceremonies in churches or houses of worship. You will have to find someone that will agree to perform your wedding ceremony outside.
Find an Outdoor Wedding Location
You will have to find a location for your outdoor wedding and plan the event around it. You should find a secluded location if you want to prevent distractions and unwanted guests. Some people have their weddings at the park, beach, historic estates, and their own backyard. You will also need a back-up plan if the weather is bad on our wedding day. If the location you choose does not have an indoor facility, you should rent a party tent. In addition, if bathrooms are not available, you should rent port-a-potties.
Invitations
You will have to make a guest list and purchase invitations for your guests. Many kinds of invitations are available, and you should not have a problem finding some that suit your personal taste and budget. Make sure you tell your guests when and where the event will take place. Let them know that you will be having an outdoor wedding. That way, they will dress appropriately for the occasion. You can also send weather information to guests who are not familiar with the climate.
Flowers and Decorations
You should purchase flowers that can tolerate any kind of weather condition. Sunflowers and lilies are sturdy blooms, and they are ideal for outdoor weddings. You can also use a wedding arch to create a focal point for your ceremony. You can leave the arch as it is or decorate it with ribbon and flowers. Also, you may want to consider choosing a wedding theme and picking out the colors for your event. You can hire a florist to help you with flower decorations.
Menu
Outdoor weddings call for simpler menus that can withstand any kind of temperature, and you should avoid dishes that are served cold if you are having your wedding in the summer. Be sure to hire a caterer that has outdoor experience. If you are planning a casual outdoor wedding, you may want to consider serving an outdoor barbecue. If you are having your wedding in a warm environment, you should keep plenty of water and ice around, lemonades, and sodas. You will also have to decide if you want to serve alcoholic beverages. Margaritas, mojitos, sangria, and mint juleps are excellent choices for outdoor weddings. Also, keep in mind that wedding cakes can melt in warm weather, so stay away from ice cream cakes and mousse.
Attire
Breezy fabrics are ideal for outdoor weddings, and you should consider what is best suited for the sun, grass, or sand. Lace, silk, and satin are excellent fabric options. If you will be standing on sand or grass, you should keep your hemline short. If you are having your wedding at the beach, you may want to choose flat or wide heels because stilettos can sink into the sand. White tuxedos are excellent choices for outdoor weddings. However, you may want to dress the men in crisp oxfords, sport jackets, or khakis. If they choose to wear tuxedos, they should also get vests because they will look nicer when their jackets are off.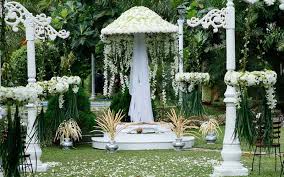 Wedding Favors
Feel free to get creative with your wedding favors. If you are having a beach wedding, you can give your guests bags of seashells or colorful sand bottles. You can also give your guests miniature potted plants. Many kinds of favors are available, so take the time to find the perfect wedding favor.
Entertainment
You can hire a DJ or band to entertain the crowd. However, since you will be having your wedding outside, you can entertain your guests with outdoor games like beach volleyball, croquet and the like. You should also consider renting a sound system with microphones for the officiant, bride, and groom. That way, your guests will have no problem hearing your vows. Your DJ or band can provide you with the equipment.
Photographer
You will have to decide if you want to hire a photographer for your wedding day. If you want high-quality photos, you should hire a professional for the job. Otherwise, one of your friend's or a family member can take photos with a digital camera or shoot a video with a camcorder.
Keep in mind that you can create a dream wedding on your own. However, you may want to consider hiring a wedding planner. A wedding planner or consultant will lift the burden off your shoulders and plan the wedding for you. Keep in mind that with careful planning, you can create the spectacular outdoor wedding that you have always dreamed of.
If you are looking for the right venue, then head to Sand Castle; the award-winning venue is straight-out-of-a-movie type. You will be delighted with the best services they offer. Be prepared to be awed and to be awe your guests. They are based in Long Island.