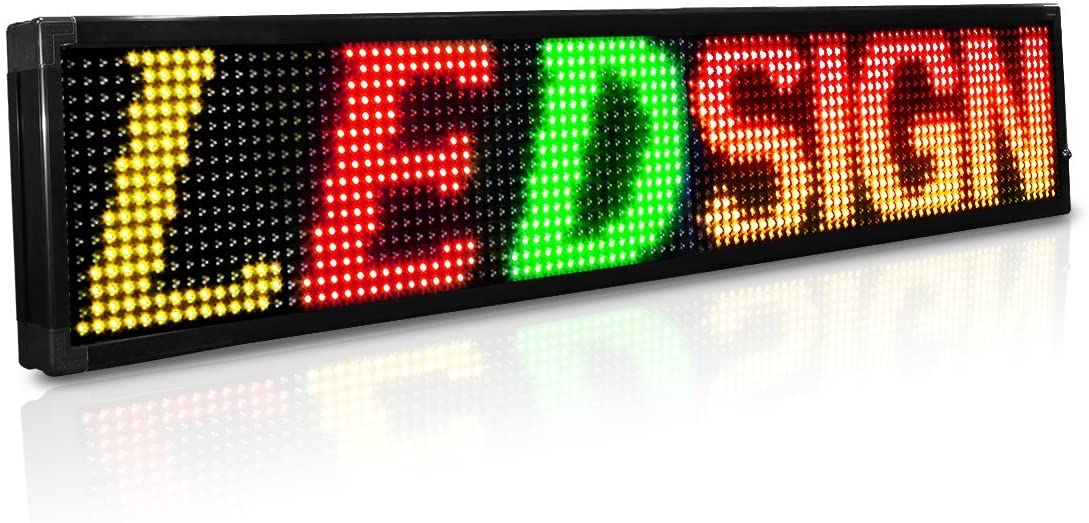 Thanks to our year-round sunny climate in Australia, we have a dynamic event scene that allows us to organise outdoor events at any time of the year. Concerts, fairs, races, golf tournaments…during all these events, guests want to enjoy the atmosphere at its best and be able to hear and watch all the action at the same time. Numerous visual options, including projectors, LCD video walls, and TVs, may not be suitable for outdoor events as they're not waterproof. This means it can be tricky to get a view of the screen in direct sunlight (unless the TV is commercial-grade). Besides, they can require a lot more time, effort (and cost) to set up.
So, when it comes to making the most of your marketing budget, look for the innovative solutions offered by LED (light-emitting diode) business signs. From the brightness and clarity standpoint, these types of illuminated signage are sure winners! You've probably seen them around! From the countersigns announcing a daily special at the bakery to the giant, eye-catching LED billboards with words of wisdom, to a list of coming events in front of the sports arena, these striking cutting-edge signs have become a part of our lives. Whether you need a sign to highlight that your store is open for business, or you're a company offering signs to local businesses, using them could dramatically change your business performance.
So, if old-fashioned signage doesn't work anymore and you're looking for a new way to stand out from the sea of neon lights, take a look at these stunning perks of LED advertising screens.
#1. Longer Lifespan & Lower Maintenance
Replacing the panels can be time-consuming and costly. That's why no company wants to permanently hire someone to climb a ladder or make a custom-made light panel. That's where LED technology comes in handy! They're highly resistant to damage and require little maintenance.
Traditional billboards, on the other hand, are made of vinyl, which is easily damaged, and the lights require constant maintenance. If we compare the two, it's obvious why the new school LED advertising displays are becoming the most popular choice of advertisers all over the country. In fact, these dazzling advertising screens last 25 times longer than incandescent lamps and provide thousands of hours more viewing time than neon. Since they don't contain escaping gases that dim down the light bulbs, they are much brighter than other light bulbs.
#2. Attention-Grabbing, Vivid, Bright Displays
Perhaps the most remarkable feature of LED advertising is its ability to draw attention, which is ideal for any event, from festivals and fairs to university events. Thanks to the latest and most advanced technology, LED lights are incredibly dynamic and produce extremely bright and brilliant light that can be perfectly seen from near and far, even in broad daylight. As a result, passers-by are much more likely to stop and take in your message.
#3. Unique Content Opportunities
LED advertising panels offer unique video content possibilities since you can display specific content at specific times. Throughout the day, you can mix and match messages – for example, as a restaurant operator, you can advertise a particular happy hour commercial for peak hours, and then announce the live music programming for the night after the happy hour is over.
Essentially, you can broadcast a variety of ads at multiple time intervals, delivering specific information to specific audiences. LED scoreboards are excellent for effective brand marketing, as they offer a wide range of content possibilities.
#4. Planet-Friendly
Many signs can consume quite a lot of energy but LED signs only use about 10 watts of power, which is about 80% less energy than neon signs, which is synonymous with less energy consumption and less impact on the environment and lower electricity costs.
#5. Up and Running from Anywhere
One of the many benefits of digital advertising technology is that it can be remotely used through a simple Wi-Fi connection. You can control an unlimited number of billboards with just a few mouseclicks. If you have an ad that resonates with your audience in Melbourne and you want to try it out in Perth, simply upload your content to the back end of your display software, and it will begin to deliver the ad to a new market.
#6. Display Content on-the-Go
Rather than having to build an on-site LED display for an event, a trailer LED display allows you to simply hang it on the back of a vehicle and drive it to the event site. These mobile LED screens vary in size (depending on the vendors) and can be mounted on all-size trailers and vehicles. Being easy to transport, trailer-mounted displays make your screen's installation effortless and hence saving you time and money in labour costs.
Benefit from LED Advertising Today!
When appropriately used, LED display advertising can be beneficial to almost every type of business. All you need is a smart mix of creativity and value to grab the attention of your customers. If you are looking for LED advertising services, contact Sign Raizor today! Whether you need a single or double-sided display, they will find the perfect solution to put your LED sign in full view!