There are many people who can have their wine with almost anything. But there is some food that doesn't comply with certain wines and vice versa. This article is all about knowing which wine to pair with which food. Sure, it will help you to know more but it will also guide someone who is new to the world of wines!
So buckle up, let the wine and food matching begin!
Wines to pair with Vegetarian, Seafood, and Spicy Dishes
Pairing wine with vegetarian dishes needs to be done carefully. Pay attention to the herbs, sauces, and spice!
• Tossed Salads needs to be paired with sparkling wine. The acidity works best with the dressing and not against it.
• Grilled Vegetables are best in summer and accompanied with a New Zealand sauvignon blanc just completes the dish!
• Rich Vegetable dishes like curries or pasta. To complement the richness of the sauces, try a white burgundy or a California Chardonnay!
• Hearty vegetable stew such as ratatouille is complimented with a white wine from the Rhone Valley or a Viognier from California.
• For meat substitutes like tofu and seitan paired with a Grenache-based wine or a rosé from France or Spain would work best with these dishes.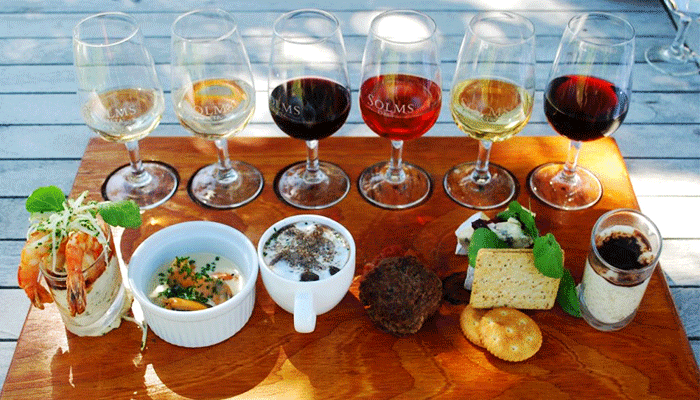 Whenever red meat is mentioned we tend to think of red wine and the same for fish, we think of white wine! Well, it's good to remember that but there are seafood dishes and the preparation that requires red wine.
• Salmon is a fish that can work with many different types of wine depending on its preparation. If made with a crust or served in a dark sauce, then a pinot noir would work best. If the salmon is poached, then it needs to be served with a chardonnay!
• White and Flakey fish are best paired with Spanish white wine such as Albarino or a sauvignon blanc.
• Darker and Oily fish such as mackerel, a flavored wine would work best. A Cru Beaujolais from France or a lighter Barbera from Italy would be apt.
• Fried fish is the obvious pair of a sparkling wine like a French Champagne.
• Sushi and other raw fishes pair excellently with a sparkling wine because of its bright acidity.
Pairing wine with spicy food is complex as all the spices are put forward and the taste of wine would fade. Matching spicy food with wine is challenging that's why beers are mostly recommended. Sauvignon blanc and Champagne are the best to have with spicy dishes.
That's it, now you know!