If you want to get more traffic and sales to your e-commerce website, then on-page SEO is a critical first step.
There's a multitude of how-to articles and tutorials on the web offering general SEO advice, but far fewer that specifically address the needs of e-commerce entrepreneurs the same way that the experts at Linkeo Ltd do through their innovative Deliver By Linkeo platform.
Today, we've partnered with the Linkeo team to bring you a series of articles that aim to give you a basic understanding of on-site search engine optimization for e-commerce. It will be enough to get you started, make sure you're sending all the right signals to Google, and set you up for SEO success.
First off…
What is E-Commerce SEO?
E-commerce SEO is the process of making your online store more visible in the search engine results pages (SERPs). When people search for products that you sell, you want to rank as highly as possible so you get more traffic. You can get traffic from paid search, but SEO costs much less. Plus, ad blockers and ad blindness can reduce the effectiveness of paid search, so you'll want to optimize for search regardless.
E-commerce SEO usually involves optimizing your headlines, product descriptions, metadata, internal link structure, and navigational structure for search and user experience. Each product you sell should have a dedicated page designed to draw traffic from search engines.
However, you don't want to forget about static, non-product-oriented pages on your site, such as the following:
Homepage

About page

F.A.Q. page

Blog articles

Help center answers

Contact page
Create a list of keywords for those pages as well as related keywords. There are several online resources that make it easy to search for one long-tail keyword and find semantic keywords that go well with it.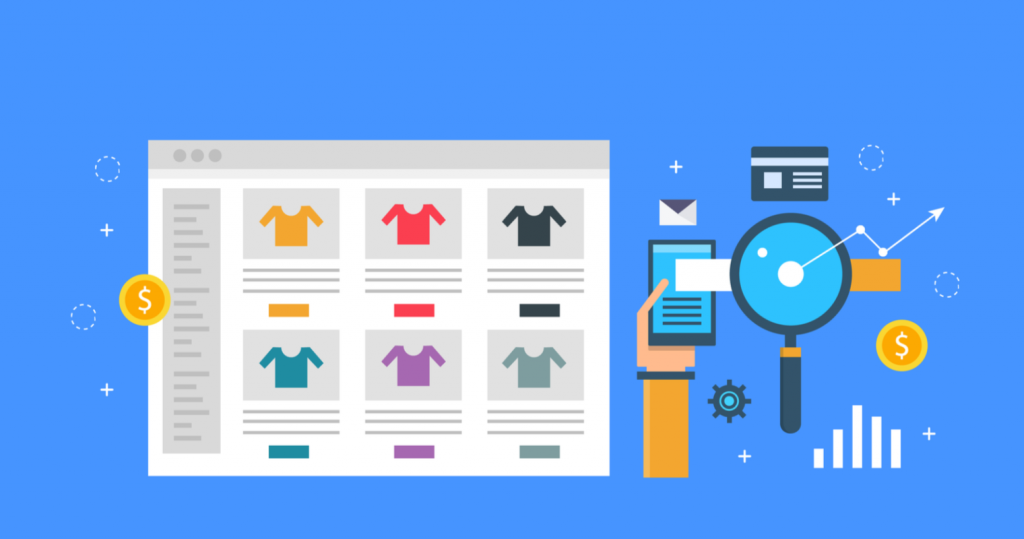 Why SEO For E-Commerce Matters
What do consumers do when they need a product or service? Many perform Google searches. They're looking for options, tips, comparisons, and other information to help them make informed decisions.
If your website doesn't appear in the SERPs, you lose critical access to qualified and interested e-commerce customers. Your products might have a space on the web, but are they visible?
That's where e-commerce SEO comes in. It provides you with a way to reach your target audience without paying for ads. Once you get people to your site, you can delight them with your high-quality products, intriguing copy, and motivating calls to action.
How to Develop an E-Commerce SEO Strategy
E-commerce SEO might seem like a huge task, especially if you already have a website populated with tons of products. Yes, it might take time, but you can speed up the process with a solid strategy.
Prioritize pages: Which pages on your site get the most traffic? Start with them. Additionally, if you want people to focus on a specific or flagship product, optimize for that product first.
Create a workflow: SEO requires you to meet lots of specific requirements. Choosing keywords, adding metadata, naming your images correctly, adding image alternate attributes, and incorporating related keywords all fall under this category.
Check out the competition: Your e-commerce SEO strategy should be designed to outwit the competition. Look at your top competitors' sites and check out their SEO efforts. Identify ways to make yours better.
Follow through with CRO: Conversion rate optimization (CRO) should follow SEO. We'll be returning to this topic in more detail later on in the series, so just keep this term in mind for the time being.
That's all for the first part of our e-commerce SEO series. In the next part, we'll be looking at the most important aspects to consider when developing your SEO strategy. In the meantime, be sure to leave your thoughts, opinions and questions in the comments below.