Do you dream of coming to work in a bright modern office that the office staff can be proud of, and that you could be proud to invite customers and potential customers to? Do you think that this would take major expense upheaval and disruption to achieve? For many offices it's likely to take more than a lick of paint to turn them into modern, light, open-plan spaces where dirt and clutter are easy to spot (and rectify) and where staff feel that have plenty of healthy and productive contact with the organization itself, other staff members, and the outside space. It's also a major advantage for most businesses to have a workplace layout that fits well around the organization, the work, and the staff rather than the other way around.
Glass office partitions are not only modern and stylish in appearance; they offer many advantages for the contemporary office. Glass office partitions effectively create a light and spacious working environment. The benefits afforded by glass office partitions make them a great way of adding an air of elegance as well as a professional appearance to any office. Regardless of the specific requirements of each office, there will always be a suitable choice in glass partitions to meet the needs of the business.
Here are three of the major benefits of introducing glass office partitions to a workplace:
Natural light: Commercial partitions of glass do a terrific job of maximizing the impact and dispersion of natural light, particularly when formed from clear plate glass that creates a powerful effect of open space. Adding glass partitions to a working environment provides an enhanced progressive mood in the space, at the same time as it saves money by increasing the use of natural light, thus boosting the impression given to clients and cutting down on energy expenditure.
Cost-efficiency: Glass partitions won't only save on energy costs; they can also make the future expansion and rearrangement of an office a breeze. Glass partitions are an easily and quickly installed feature that are effective at dividing space while requiring zero or minimal structural modifications to the room which could save serious dollars.
Privacy: Glass office partitions can very successfully be used to create a private space within a busy office environment when they are formed from frosted, tinted or colored styles of glass. They will also assist in the lowering of noise levels, in fact double glazed glass partitions are some of the most effective at preventing noise pollution.
As is clearly evident, glass partitions provide numerous advantages to an office space, such as providing natural soundproofing, as well as a greater dispersion of natural light, but when it comes to deciding what is most practical and suitable in office partitions for any particular office, it is always worth seeking the advice of an expert office designer who can recommend a range of partition options according to your needs and budget.
The other consideration for many managers is whether installing glass walls around your office will provide any financial benefits. We are here to show you the financial benefits of installing glass office partitions and how it can help your company succeed.
• Efficiency – The most obvious financial reward of having glass walls throughout your office is it reduces your dependency on using all your office lighting throughout the day. If more natural light is emitted throughout your office, it means you can reduce the amount of electricity you use and if you work in an independent office block, this could save the company lots of money throughout the year.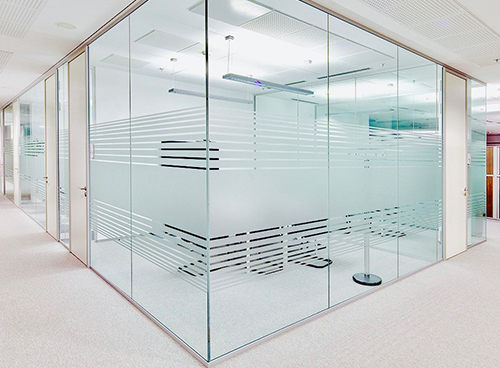 This also has a positive effect on the environment as it will reduce the company's carbon footprint as well as increasing energy efficiency. If you are acting ethically, then it will have a positive effect on the reputation and perception of the company which could increase the companies appeal to potential clients. On top of that, your company may be eligible to a range of environmental incentives as part of your sustainability efforts.
• Productivity – One of the main selling points of glass wall partitioning is that it increases motivation and productivity among your workforce, which can mean tasks are carried out quickly, and the standard of work produced can improve a great deal. If companies do not have to allocate a vast amount of time and resources on to a task or project, it will save them money and enable the company to take on more business and easily manage the extra workload.
• Corporate Appeal – With many business markets appearing to be highly competitive, trying to win a new client for the company is becoming increasingly tough, and therefore you need to give yourself every possible advantage when looking to liaise with and impress a potential client.
Glass partitions generate a comfortable and slick corporate feel for any offices, and a client will be impressed with a clean and organized office which they feel comfortable visiting for meetings or to work should the project require them to. If your company is looking to target premium brands or corporate companies, then many would suggest this change is a necessity for any business with big targets and long-term aspirations.
• Flexibility – The final financial benefit of having glass partitions installed in your office is that they give you a great deal of flexibility, meaning they can easily be demounted and moved should you need extra space or if there is a need to segment an area of the office for privacy reasons. If you did need the change the layout and did not have these partitions, then you could continually keep paying for changes to the layout of your offices. Demountable glass walls are very easily dismounted and moved meaning you can continually change and redesign the layout of your office to accommodate for any unforeseeable events or circumstances.
Make sure you choose office partitions wisely because they can save a lot of your space and money.
Visit Atlantic Shower Doors in Miami Lakes, FL! They create supreme quality glass partitions within the industry's fastest turnaround times. For exquisite mirrors, shower doors and glass partition products, call them today!