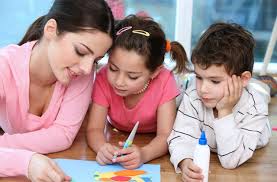 Being a parent is such a big achievement; you dedicate every minute, hour, day, and month to their basic needs and keep them safe. This is why choosing a daycare is a huge deal for the family. As one of the important decisions, you will make for your baby, especially if you find it difficult to separate yourself. Well, there comes a time in every working mom's life when she has to decide whom to choose for baby- a daycare or a nanny?
It is okay to feel all emotions from guilt, uncertainty, and sadness when thinking of leaving your honey-bud at home or in a daycare. Below, we are going to list out the pros and cons for both, so that it will be easier for you to choose.
Daycare – A stimulating environment for children, it can be handled by individual centres or by a provider within their private home. It should be a licensed and accredited facility. A daycare offers fantastic social interaction for children, which is important for child development. It prepares the children well for integrating a school setting later on. A daycare facility helps in offering a stimulating educational environment with lesson plans with teachers who are trained in Early Childhood Development. These facilities are budget-friendly. For the drawbacks in daycare is that there can be a high staff turnover and the long waiting lists is from 6 to 12 months. The daycare centre can be loud and hectic for your child to adjust and adapt. The staff-to-child ratio can sometimes be limited, as there are not enough teachers to look after each kid. If you're germophobe, then this is the biggest turnoff for you as your child will be exposed to germs and sickness. If your child falls ill, then you will have to take a day off from work. If you have more than one child, then it is a bit complicated to opt for a daycare service.

Nanny – A someone who is employed to look after a child or children in your own home. Specialised training in early childhood development and experience are needed in a nanny; they should also be dedicated to caring for the family. A nanny can provide a personalised type of childcare, such as the routine of the family. She/He undertakes household duties such as light cleaning and grocery shopping. The nanny helps in providing a consistent and stable bond with the child and family. However, a nanny can be a more expensive option, and if the nanny is sick or needs a day off, then the schedule can be disrupted. Being a nanny is not a fixed job, so there is less assurance that the person would be here for your child later on.
It is important to remember when considering childcare that every family is different. If you are still deciding, have a look at Anderson Road Child Care Centre. They provide first-class childhood education and integrated kindergarten programs to children from 3 months old to 5 years old.