Cosmetics: Which Active Ingredients for Which Skin Types
Summary
– Definition of a cosmetic product
– Different types of cosmetics
– Composition of cosmetic products
– Cosmetics: which active ingredients for which skin types?
– Substances to avoid in cosmetics
We use one or more cosmetic products daily to care for ourselves and our appearance. But we don't always know what these products contain. Some organizations have developed labels and certifications to warn us about their use and composition.
Definition of a cosmetic product
"A cosmetic product is a substance or preparation intended to be placed in contact with the various superficial parts of the human body, such as the skin, hair, nails, lips or teeth, with a view, exclusively or mainly, to cleaning them, perfuming them, modifying their appearance, protecting them, keeping them in good condition or correcting their odors."
Different types of cosmetics
There are several major cosmetics categories, which are subdivided into several subcategories. We distinguish mainly:
– hygiene and toiletry products: make-up removers, skin cleansing products, deodorants, shaving products;
– beauty care products: face and body scrubs, masks, facial creams, and other serums;
– sun care products: self-tanners, sun protection creams, etc.;
– hand and foot care products: nail polish, nail polish remover, and other treatment products;
– hair removal products: wax, depilatory creams, etc.;
– all make-up products: powders, foundations, lipsticks, etc.;
– hair care products: shampoos, conditioners, masks, hair coloring products, etc.;
– perfumes.
Composition of cosmetic products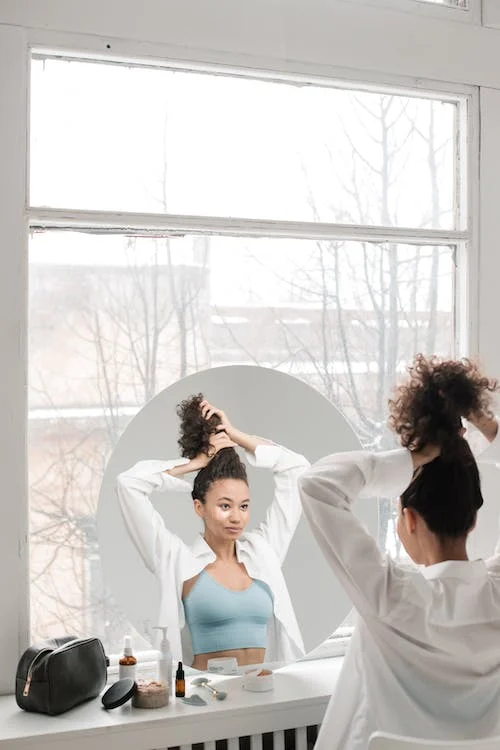 In addition to perfumes, most cosmetic products are emulsions: a mixture of water and oil, thanks to the presence of surfactants. They are thus composed, by order of importance:
– a hydrophilic phase: essentially water, glycerine, etc.;
– a lipophilic phase: a vegetable or mineral oil, i.e., from the petrochemical industry (petroleum jelly, kerosene, petroleum jelly oil), silicones, etc.;
– surfactants: molecules that act as a link between the fatty and aqueous parts of emulsions and which have foaming, antiseptic, detergent properties, etc.;
– active ingredients: substances of natural or synthetic origin chosen for their action on the various types of skin and skin problems;
– additives:
◦ preservatives: parabens, ethanol, sorbic acid;
◦ antioxidants that prevent the rancidity of the products: vitamins E and C (of natural origin), BHT and BHA (of synthetic origin);
◦ natural or synthetic colorants. These are grouped and cataloged in the Color Index (CI + 5 digits).
Cosmetics: which active ingredients for which skin types?
Comparison of active ingredients for different skin types
ACTIVE INGREDIENTS

ACTION

SKIN

RETINOL (vitamin A)

COLLAGEN

GREEN TEA

ROYAL JELLY

Anti-aging.

Mature or preventive on all skin types.

GLYCEROL

SORBITOL

HYALURONIC ACID

ALOES VERA

Moisturizer.

Normal / Dehydrated skin.

Soothing.

Sensitive skin.

ZINC

CLAY

KAOLIN

WHITE NETTLES

Seboregulator.

Oily / Combination skin.

SHEA BUTTER

BORAGE OIL

SWEET ALMOND

Nourishing.

Dry skin.
Substances to avoid in cosmetics
Manufacturers of cosmetic products are obliged to label the complete list of ingredients in descending order of concentration on their packaging. However, it is often difficult to find your way around. Here is a non-exhaustive list of substances to avoid:
– "Sodium palmate": this is palm oil to be avoided because of its disastrous impact on the environment.
– Paraffin" and "Petrolatum": kerosene and petroleum jelly are mineral hydrocarbons produced by distilling petroleum.
– Dimethicone" or "Methicone": entirely synthetic silicones produced from silicon.
– Paraben: this preservative has been recognized as an endocrine disruptor and allergen, but beware, it is often replaced by "Methylisothiazolinone" (MIT), even more, harmful to health.
– Polyethylene Glycol": these are all PEGs, which are highly polluting during production and potentially carcinogenic.
– Sodium Laureth Sulfate" and "Sodium Lauryl Sulfate": foaming surfactants widely used in shampoos and shower gels, which cause itching, and irritation and are very allergenic.