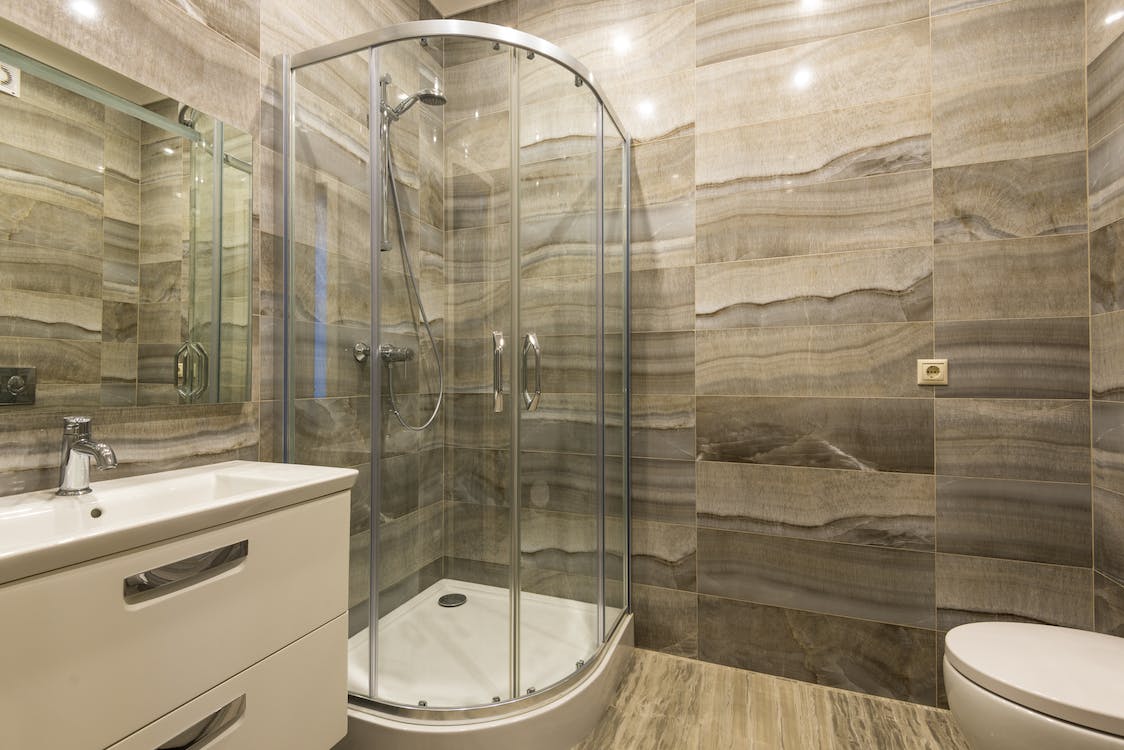 Installing a shower in a bathroom? It saves time and water. However, as a complement or replacement for a bathtub, it must correspond to your practical needs and tastes and your budget. This post will help you make your choice by making you discover the different types of showers.
The classic shower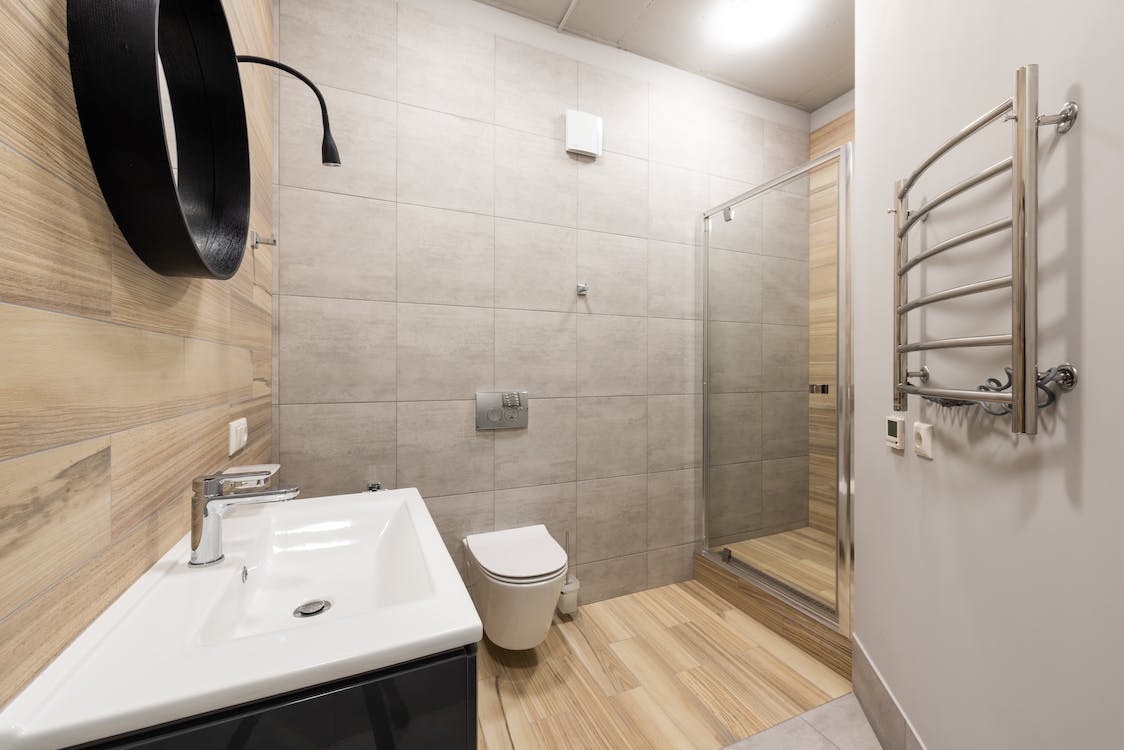 Characteristics
It is composed of a shower tray of variable dimensions and protection that can be formed by fixed walls or by a curtain, which is more economical. It is the most common model and easy to install, whether it is a new construction or a renovation because it is installed directly on the floor of the room.
The classic shower does not require a large area, and the shower tray is available in a format from 70 cm × 70 cm. But it also exists in a corner model and in large sizes up to 190 cm × 90 cm if you want to install it in the place of an old bathtub.
The basin can be of a classic height but also extra-flat, recalling the principle of the Italian shower. There are stoneware tubs, resistant and durable, but also acrylic, light and affordable, stone, slate, and composite materials. Some basins are raised from the outset, and others must be placed on supports to leave room for the drain pipes.
The faucet system can be simple or include accessories such as a hydromassage column or a rain jet.
Advantages and disadvantages
The access threshold is the main drawback of a conventional high tub. If you wish to remedy this by choosing a low-profile shower tray, you will have to embed the pipes into the bathroom floor.
The ease of installation of this type of shower as well as its cost price are its essential qualities. Although white is often preferred in contemporary bathrooms, these trays come in many colors.
Good to know: stone and slate trays are also available in custom sizes.
The Italian shower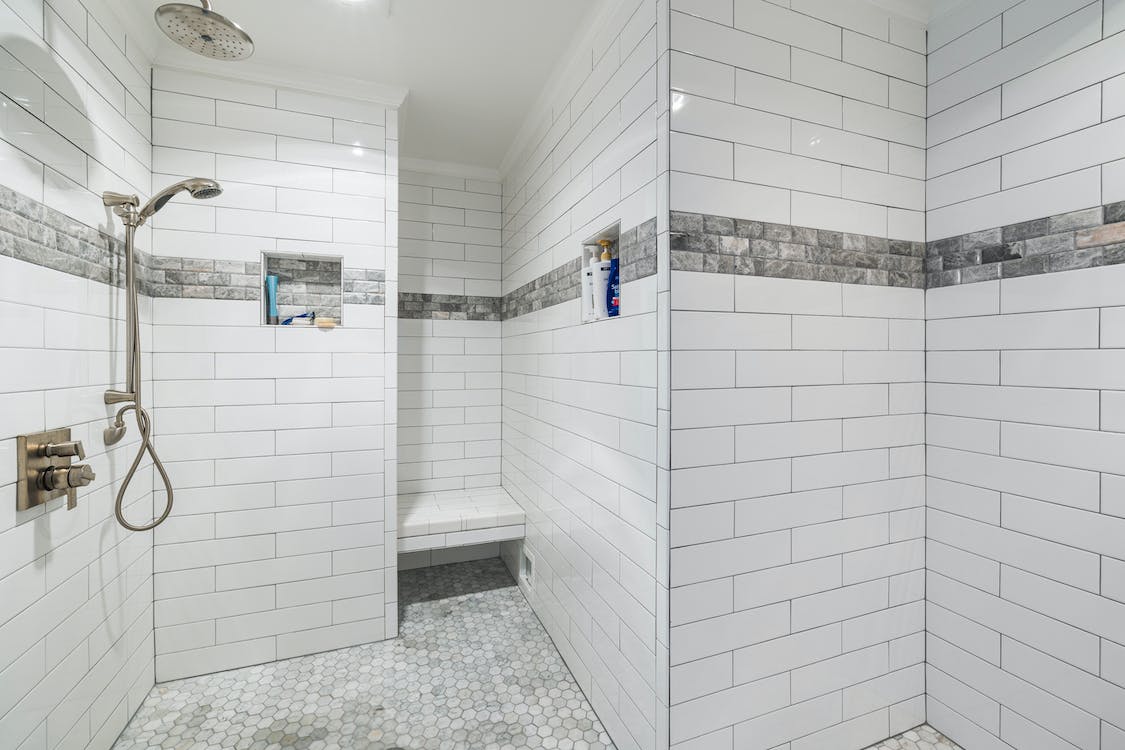 Features
It is a single-level model, very comfortable, and generally large in size. The bathroom is protected from water splashes by a glass wall that closes it partially or completely by sliding doors. It can also be left unenclosed if it is located in a large bathroom where splashing water is not a problem.
It is the ideal model for people with reduced mobility thanks to its easy access.
It is usually planned during the construction of the house since the shower tray must be installed in a recessed area designed for it from the start. However, with significant masonry work, it can be installed in an existing bathroom. It is also possible to install it without creating a cavity by raising the whole room. This last possibility will require a step to access the bathroom, which implies having a sliding door or opening to the outside to enter.
The basin can be built in, tiled, or in concrete with a diamond shape for the drain.
Advantages and disadvantages
Very aesthetic, the walk-in shower seems to be one with the rest of the bathroom. There is no limit to the size of the shower, which depends solely on the size you wish to allocate to it, especially if you choose a shower tray made on-site with concrete.
On the other hand, it is more expensive than a conventional shower. Waterproofing problems can also occur if the installation is not done properly. And it's much more difficult to fix them because it means breaking the shower floor if you've chosen a tiled shower tray rather than a recessed one. It is, therefore, essential that the walk-in shower be perfectly watertight. For these reasons, installing it in a bathroom on a second floor is not recommended, as it could cause flooding that would be difficult to contain in the rooms on the lower floors.
The integral shower enclosure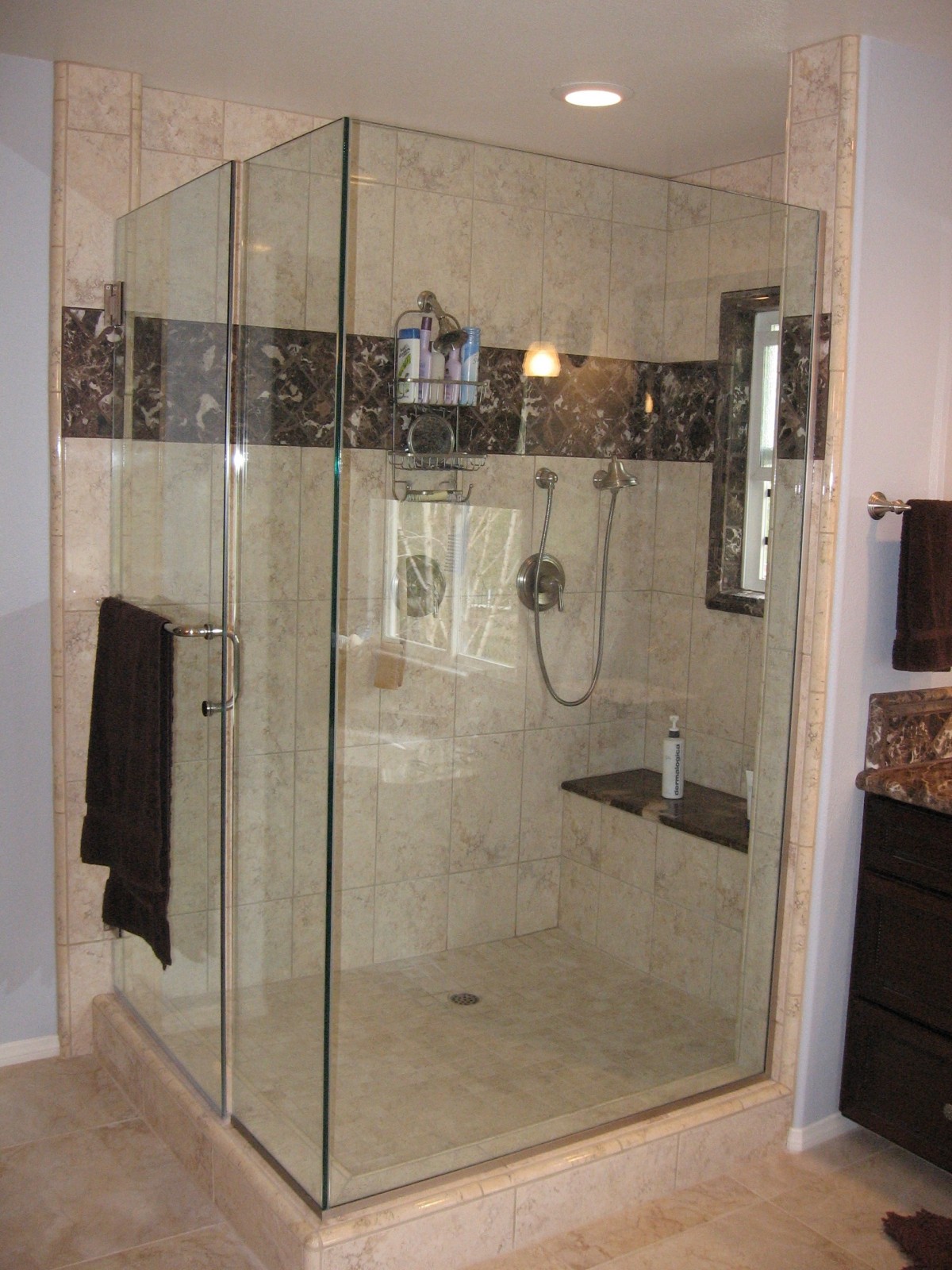 Characteristics
It is ready to install and consists of a tray and solid or glazed walls in real safety glass or plastic. The connection is simply done on the drain provided in the bathroom by respecting the slope of the pipes for an optimized water flow. The faucet is designed from the start and is simply installed in the place where it is to be used.
It is available in many models, from the simple entry-level shower to the model with a seat, and music diffuser, equipped with LED lights in changing colors, and even with a steam system to transform it into a hammam.
Advantages and disadvantages
However, while it has undeniable qualities regarding ease of installation, the full shower enclosure suffers from several flaws.
Its standard dimensions are limited, even if there are more and more different models on the market: it cannot be adapted to all configurations, unlike the shower tray system.
It must be installed in the corner of the room, except for some high-end models with large dimensions, which can be installed in place of a bathtub.
Entry-level models, although attractive at first glance, are sometimes difficult to install and generally age poorly: the plastic materials used turn yellow, and the seal between the walls and the tub deteriorates. It is, therefore, essential to budget for a complete shower enclosure; otherwise, you will be forced to change it after a few years.
If only one part of the enclosure is damaged, the entire system must be replaced, and none of the parts can be salvaged.
Where can I find the different types of showers, and for what price?
They can be found in large DIY stores, bathroom installers, vendors specializing in the sale of bathroom equipment, and on the Internet. As an idea:
A single stoneware shower tray starts at $40 for a size of 70 cm × 70 cm.
A tiled walk-in shower tray starts at $ 170 for a 90 cm × 90 cm size.
Full shower enclosures start at $200 for entry-level models in 80 cm × 80 cm and average $700 for a premium product in 90 cm × 90 cm.