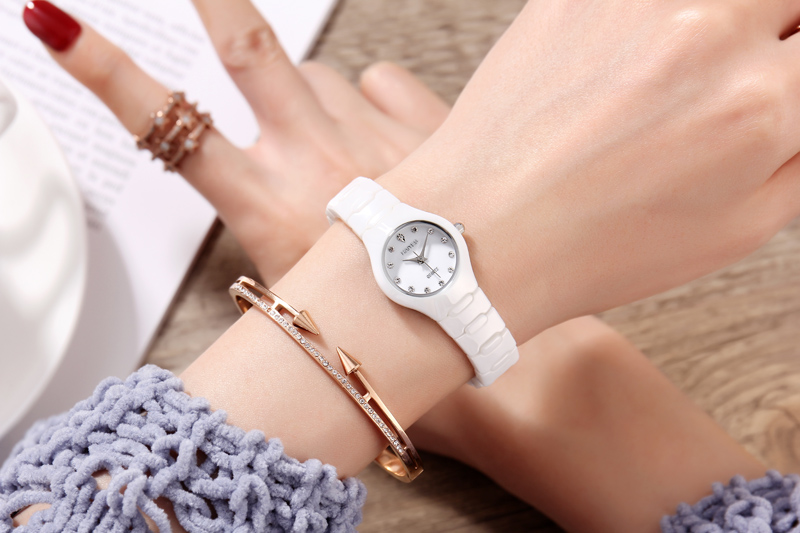 It is no wonder that during the last decades, wristwatches have become more and more popular among both women and men. Did you know that wristwatches were only worn by women before the 20th century, mainly for decorating purpose rather than timekeeping function? Well, I guess this still somehow applies nowadays. As women mainly consider wristwatches as a type of accessory, they tend to care most about the look of the watch.
Being someone who loves watches, I agree that it is crucial at women choose a watch that suits your style. Your watch can then be an effective add-on to your appearance, or even can become your style signature. However, I must say the look is just one of the many criteria that ladies should consider when buying a watch. In this blog post, I am writing about six tips to help women choose the most suitable wristwatch.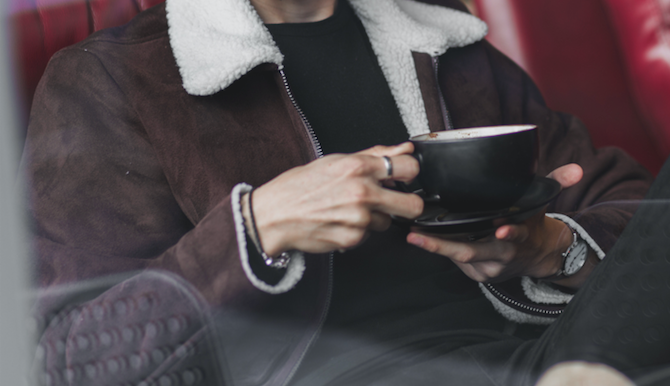 1. Reflect your Taste
The first and most important rule for gift-giving also goes for watches: Never give a lady watch as a present that doesn't represent your own taste, but don't just make a blind leap of faith either. Ladies watches today are very diverse, compared with a few years ago. There're more mechanical timekeepers than ever before and the days dominated by just gold and flashy bling have made way for a more thoughtful and deliberate watch genre tailored to just about every kind of taste. The golden rule "control yourself" plays a big role here guys. Ladies watches aren't big toys for big boys and specs like water resistance capabilities, balance springs, and a helium outlet valve are going to impress her about as much as a screen door on a submarine.
2. Use Indicators: Jewelry and Accessories
If you're unsure about what type of style the watch should have, try using her jewelry and other fashion accessories as indicators. If she doesn't already own a watch, jewelry can be a major factor in figuring out the right direction to start heading in.
It's not only a good giveaway of her refined tastes, but you'll also be giving yourself a high-five down the road for picking out a piece that she's going to combine with her wardrobe. For all those that like it clean or stripped down, we've got good news.
Most women that don't wear earrings, necklaces, or bracelets still usually like to strap a timepiece on their wrist, nor are you necessarily at a disadvantage when choosing just the right one either. If she doesn't wear a watch, then she probably hasn't nailed down her exact tastes yet and this reduces any probability of a style fauxpas when selecting her gift.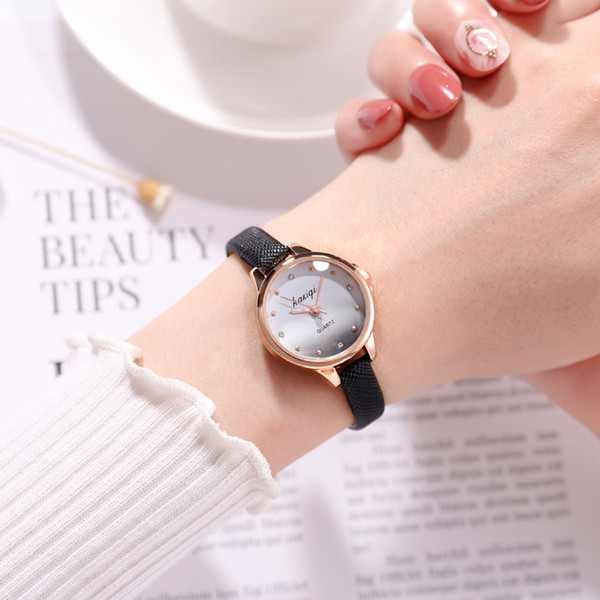 3. Play it Safe
Here's a solid piece of advice: When you're giving a present, avoid unnecessary risks. The challenge is pulling off a slam dunk here and not wiping out. Unless you're certain that she's going to love something unusual, it's probably best to avoid gaudy forms and colors. As a rule of thumb, you can generally get tired of something a lot faster when it breaks rank and a watch shouldn't fall into this category.
Another hazard could be two colored, gold and steel cases. Once popular back in the 80s, they are still trendy today. However, in many people's perception bi-color watches suffer from a stale image. Believe us when we say that she won't want to be out-of-date when showing off her watch to her friends.
4. Be Attentive: Size and Style
These days, women also like to wear watches in larger sizes. However, unless you know of a specific size preference of hers, we suggest not winging it. A lady's watch has an average case measurement of about 28 to 33 millimeters, although it can also be heavily dependent upon the style of the watch.
Answer this question: Is the watch going to be for everyday wear and tear or just for her more refined and elegant occasions? Keep her dress style in mind and use it as a springing board to choose the right piece. Sporty styled timekeepers usually have a measurement of more than 30 millimeters and often also have one or more additional features next to the time display.
Usually, elegant styled watches are delicate in nature, have clean dials, as well as simple forms and colors. While sporty timepieces are usually composed from stainless steel, the cases of the more elegant variety can also be made of solid or plated gold. If you're still deliberating on the exact style, here's another tip: While there's a certain element of risk when choosing the right sporty model, in almost every woman's closet, there's a dress that would fit just right with an elegant dress watch. Two plus two can equal four.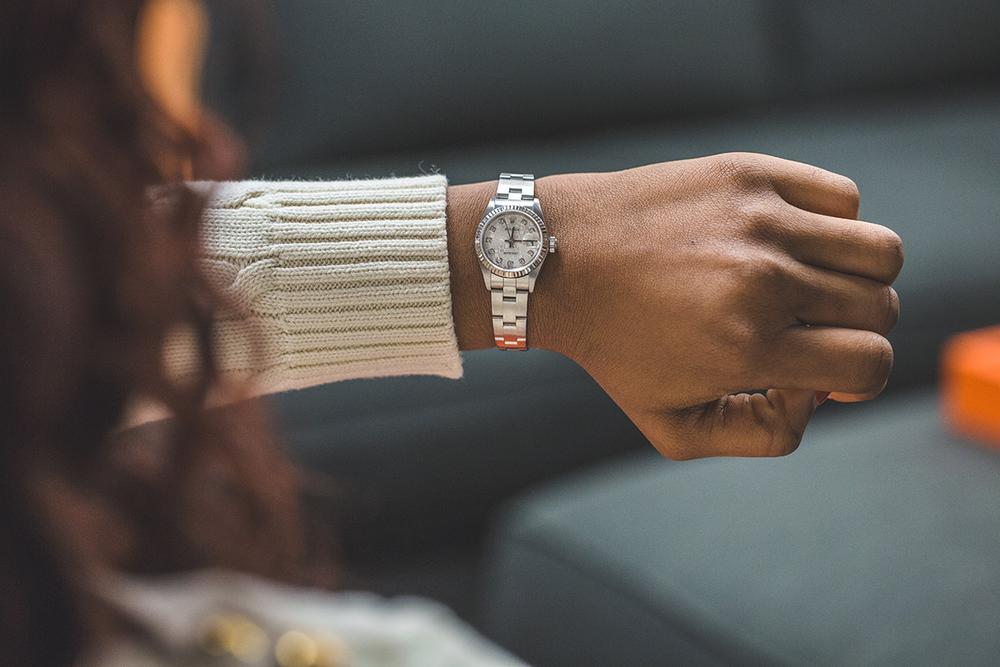 5. Choose the right Brand and Model
A lot of watch brands have fleshed out an extensive renommée to produce high-end ladies' watches. With its famous models Ballon Bleu, Pasha, Tank, and Santos luxury brand, Cartier has always placed a large emphasis on ladies' watches. Next to Patek Philippe and Jaeger-LeCoultre, Rolex also recognized early on the importance of ladies' watches and reacted accordingly.
Other brands that offer a broad selection of ladies' watches are TAG Heuer, Longines, Omega, and Bulgari. For a few years, the manufacturer Frederique Constant has been breathing fresh air into the genre. It offers luxury watches, with many ladies' models, at very affordable prices.
6. Take Precautions and Prepare in Advance
Regardless if you decide to buy the piece over the internet or by your friendly, local jeweler around the corner, there's a few things you should take into consideration before you fork over your hard-earned cash. Make sure the watch strap is the right size. The standard is about 19,5 – 21 cm (including the watch case). Additional metal links and a longer leather watch strap can be re-ordered, just in case the strap ends up not being the right size. Metal watch bracelets can also be configured to fit the right wrist dimension and come, of course, with any links that have previously been removed.
If you are looking for the best type of watch, then head to Moments in Toronto, ON. Their wide range of luxury watches will give you a hard time to choose from. Don't worry, their experienced team will help you!