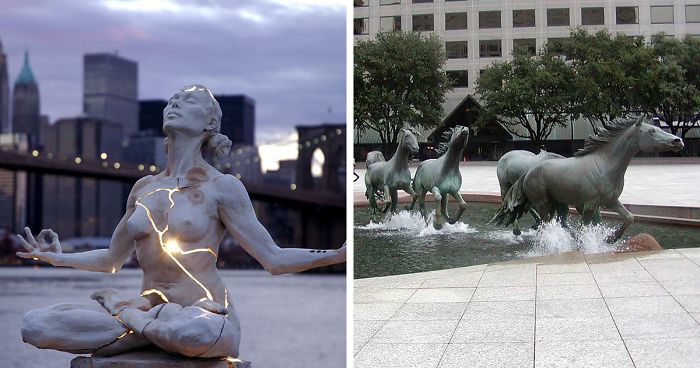 Do you want to be surprised by something that is just beyond any explanation? Do you want to question people's ability to surprise you with something out of the ordinary? Well, hold onto your horses, because here are some amazing sculptures that will surely take your breath away, like literally! Be prepared!
Mustangs by Robert Glen, Texas, USA – This sculpture commemorates the wild mustangs that were historically important inhabitants of Texas. Portraying a group at 1.5 times of the life-size, the Mustangs are sculptured running through a watercourse, with fountains giving the effect of water splashed by the animals' hooves. The sculpture dominates the space in terms of the scale of the surrounding. You surely don't want to miss that!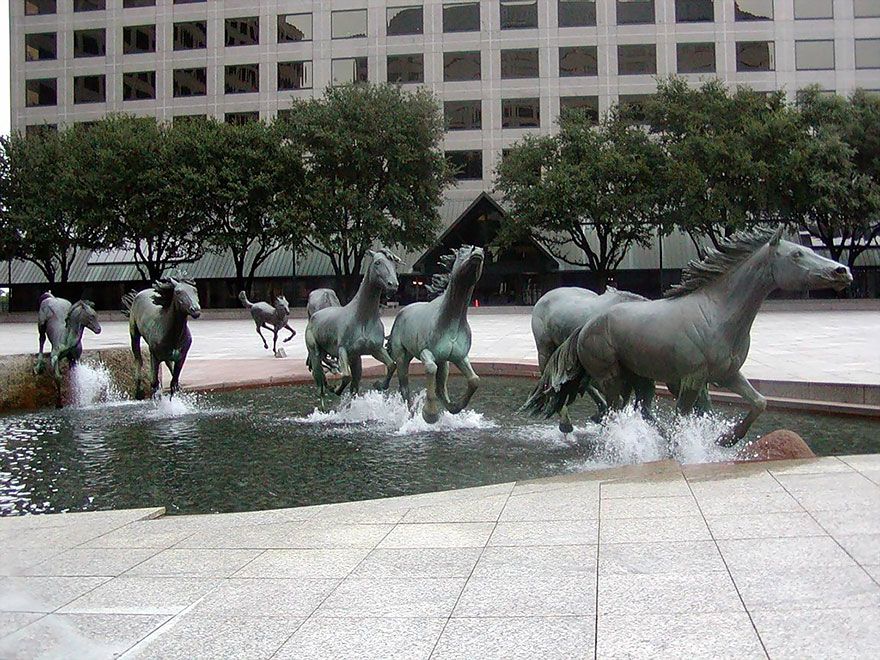 People Of The River by Chong Fah Cheong, Singapore – A renowned Singaporean sculptor, this man is known for many public sculptures in Singapore. He works in different styles, ranging from abstract to figurative. This sculpture of People Of The River is considered one of his best works. Don't miss that when in Singapore!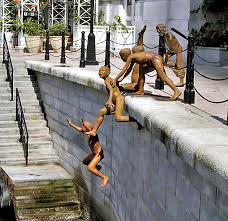 Expansion by Paige Bradley, New York USA – Representing a woman meditating in lotus position with her body cracking to reveal an inner light. This unique sculpture communicates the perfect message to look beyond your body and social structures in order to discover oneself. Sculpted by Paige Bradley, she is known for her philosophical extensions and her works are always remarkable. The Expansion is a piece of sculpture that can be interpreted in different ways. So give it a thought and look when in New York!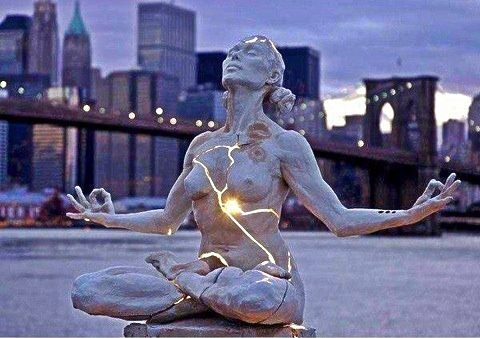 Black Ghost, Klaipeda, Lithuania – Known as the Juodasis Vaiduoklis, this sculpture of 7.8 feet in height casts an eerie vibe, especially at night. Sculpted by Svajunas Jurkus and Sergejus Plotnikovas, this mysterious figure holds a lantern in one hand as his sinister fingers grip the dock. This sculpture is partly dedicated to the mysterious ghost that saved Klaipeda from an impending famine. The Black Ghost warned them that their stock would soon run low and disappeared, making the Black Ghost a friendly spirit. It is a must visit when in Lithuania.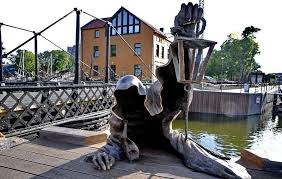 Les Voyageurs by Bruno Catalano, Marseilles France – The beautifully imperfect bronze sculpture describes realistic human workers with large parts of their bodies missing. Bruno Catalano, the sculptor, presented the ten life-sized sculpture at the port of Marseilles.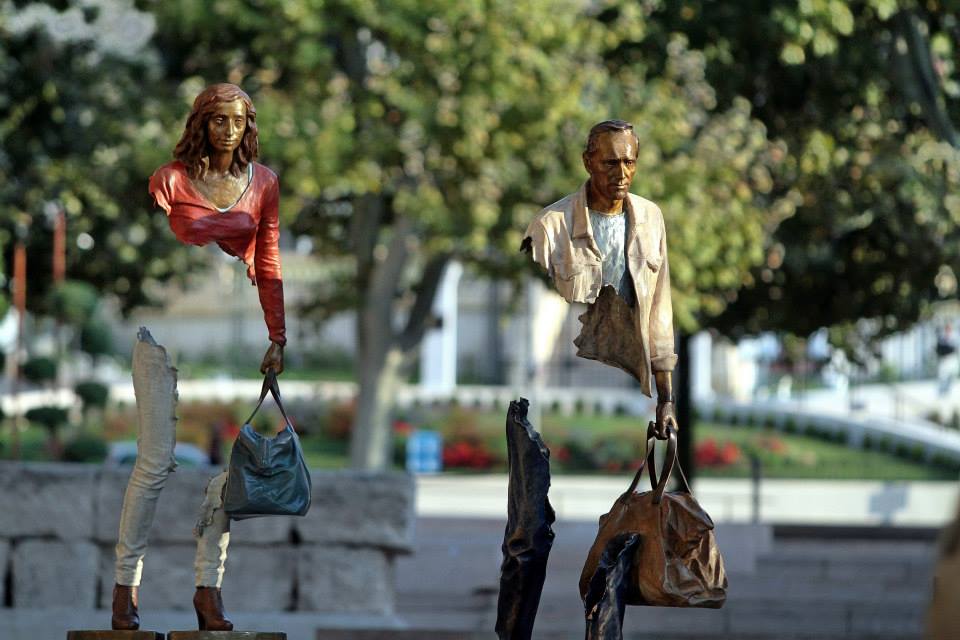 The Monument Of An Anonymous Passerby in Wroclaw, Poland – Walking down the streets of Wroclaw in Poland, you might encounter theses mystical looking statues of people coming out of the ground. Dedicated to the memoirs of the anticommunist activity in 1981 where people fell under the ground in the time of martial law. The monument was unveiled on the 24th anniversary of the martial law during the night of 12 to 13 December 2006.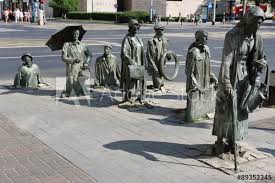 Guardians of Time, Stonehenge UK – Sculpted by the Austrian Manfred Kielnhofer. This contemporary art sculpture relates to the idea that since the beginning of time mankind has had protectors, both for historic and mystical reasons. Manfred showcased the natural human desire for security in these sculptures. It is true that his works captivate its audience.
The giant of Monterosso, La Spezia, Italy Located near the beach of Fegina, the Giant of Monterosso is built by the Italian sculptor Arrigo Minerbi and the architect Francesco Levacher. The impressive sculpture is 14 meters high and stands on the promontory as a decoration of the luxurious Villa Pastine. The sculpture has been damaged during World War 2 and also by the heavy seas. Yet it still is one of the most beautiful and amazing sculptures.
Nelson Mandela, South Africa – 56 miles south of Durban, just outside Howick, the Face of Freedom sculpture was unveiled on 5th of August 2012. A work by Marco Cianfanelli, this sculpture is made from 50 steel charcoal columns whereby the head of Mandela is created when viewed from a certain angle. This sculpture is seriously one of South Africa's most prized sculptures.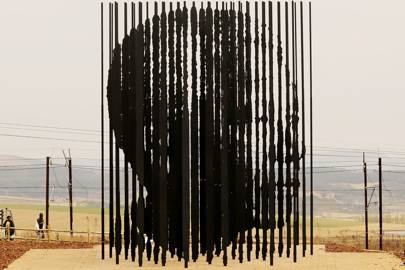 The Caring Hands, Glarus Switzerland – Grossly underestimated, this work by Eva Oertli and Beaht Huber is small yet stunningly beautiful. This sculpture sends the message of environmental responsibility and care. Mostly ignored by people, this sculpture is located in one of the only two towns in Switzerland where direct democracy is practiced.
Monumental Mihai Eminescu, Romania One of Romania's famous and romantic poet, Mihai Eminescu's sculpture is the world's most creative statues and sculptures. As a tribute to this great poet, Romanian currency has his picture.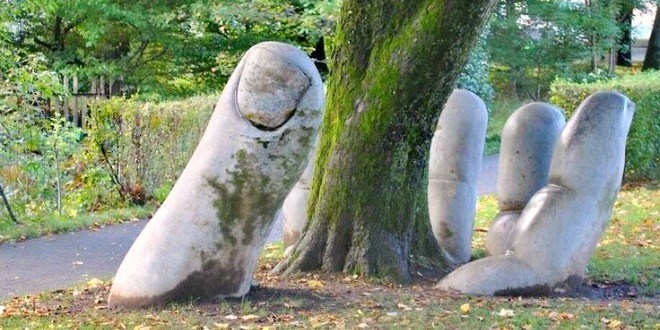 De Vaartkapoen, Brussels, Belgium – A humorous state of a policeman being tripped by a man hiding in the sewer manhole is one of the most iconic sculptures you can witness in Belgium. Erected in 1985, De Vaartkapoen literally means channel rascal. Its origins are from the workers in the docks who long ago rose in strong protests against the government.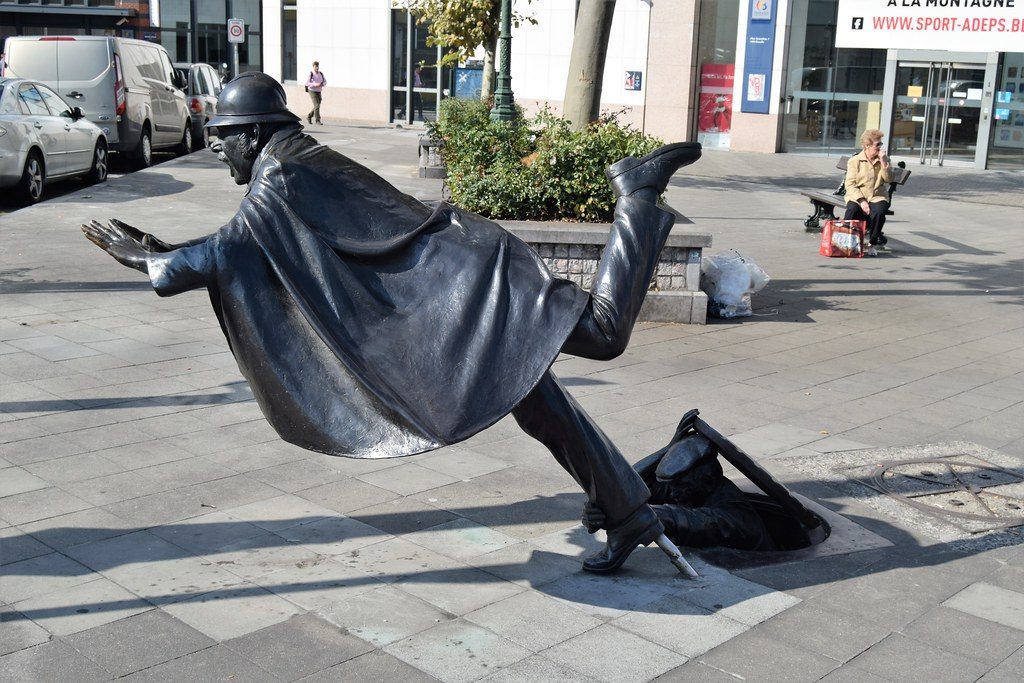 So which one is your favorite? Let us know in the comment section!